Cemeteries are the biography sections of the cities and towns they are located in. And the locations and styles of grave monuments (or lack thereof) belonging to the dead more often than not reflect their social standing much like the location and architecture of the homes they lived in. There can be no doubt that the Battersons and the Beachs and the Colts resting in Section 2 of Cedar Hill Cemetery were wealthy citizens of Hartford. The dead resting in the unmarked graves in the town section of Old North Cemetery led humble lives and received humble burials.
In May of 1863, black men were allowed to serve in state and federal regiments but were formed into segregated units led by white officers. Upon their return to Hartford in November of 1865, they received a welcome that rivaled those that other white regiments had received. But even though their service was acknowledged to be on par with their white comrades, they returned to a society little changed save the abolition of slavery. As Governor Buckingham acknowledged in his welcoming address to them: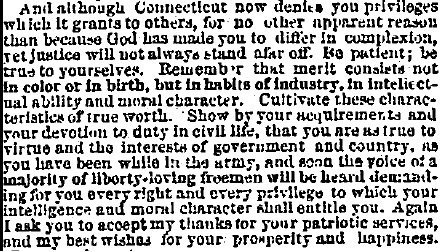 (from "Reception of Colored Regiments," Hartford Courant Nov 25 1865)
The burial sites of Hartford's Civil War veterans also reflect the times they lived in. The citizens of Hartford erected an elaborate monument in Old North Cemetery to honor the Weld brothers, one of whom, Lewis Ledyard, was Lt. Colonel of the 41st United State Colored Infantry. Forty-six enlisted who served in Connecticut, Massachusetts and United States Colored infantries were laid to rest in segregated sections well west of the Weld gravesite. African-American veterans were limited to burials in Sections 5 and W at Spring Grove Cemetery. No enlisted colored troops are buried in Cedar Hill Cemetery.
But in one of Hartford's cemeteries, Zion Hill, African-American veterans were laid to rest side-by-side with their white comrades. Two burial plots in Zion Hill were designated "GAR lots" and the Grand Army of the Republic was the first integrated society in the United States. And even though families of color were discouraged from seeking burial in Zion Hill Cemetery prior to 1911, the GAR broke the color barrier in the 1880's. And so it is that Edward Button, Co. A, 22nd CT Infantry was laid to rest next to George Washington, Co. C, 31st US Colored Troops and Charles Barnes, Co. C, 29th CT Colored Infantry lies next to Ferdinand Hauf, Co. A, 1st CT Calvary.